As busy as a day on rotations can be – between interacting with patients, working on projects and researching various topics that preceptors assign throughout the day – one thing that has come as a pleasant surprise to me is the amount of free time we usually have after finishing up the workday. Now, this can change tremendously depending on the site. Still, through more than three rotational cycles, I can definitively say that I have much more time for myself than I have had throughout pharmacy school previously. Rotations allow for much more flexibility with my time outside the required commitment to a typical workday. It has also presented some new challenges.
The best part about this newfound free time is that for the first time since starting college, we aren't expected to spend the majority of time studying for exams, completing homework or preparing for class the next day. While I certainly prepare for the upcoming day of rotations and will be focusing on studying for the NAPLEX and MPJE later in the rotation cycle, these are not nearly as time-consuming as the work previous years of pharmacy school had required.
The biggest challenge with this newfound free time, and something that I touched on briefly in my last blog post, is that there's no guarantee that the people you would like to spend your time with will be on the same schedule as you or even in the same time zone as you.
Compared to previous years, when my classmates and I had almost identical class schedules, every rotation site has particular time requirements, which can lead to conflicting availabilities for sharing your free time. For example, I have had friends who are expected to be at rotations until 11 PM on Fridays and others who had Fridays off but were required to work Sundays instead.
While I have had mostly "normal" time commitments so far, I have also been hundreds of miles away from my classmates, which leads to many other issues regarding enjoying time with your friends. With another five-week trip to Washington, DC, rapidly approaching, I will look to lean on my time in Indianapolis to help me make the most out of my time in our nation's capital while staying connected to my friends and colleagues in the Midwest.
These scheduling conflicts and distant rotational sites can make staying connected to a support system and professional network challenging throughout the year. Luckily, I have been blessed with incredibly supportive preceptors that have allowed me to attend in-person events or take time out of my day to partake in virtual meetings to help me stay as connected as ever, no matter where I may be. I have participated in some of these opportunities, including Iowa Pharmacy Association's (IPA) events, such as the Eggleston-Granberg Golf Classic and the PharmaCE Expo. I have also served as an IPA's Student Pharmacist Advisory Committee member and joined virtual meetings during the day while on rotations. These events have allowed me to stay firmly connected to my professional network no matter where my rotational journey takes me.
Keeping in mind that every preceptor will be different, I would recommend having a conversation with them early on to explain why partaking in a particular event would benefit you and your professional journey. More often than not, they will be understanding and allow you to attend.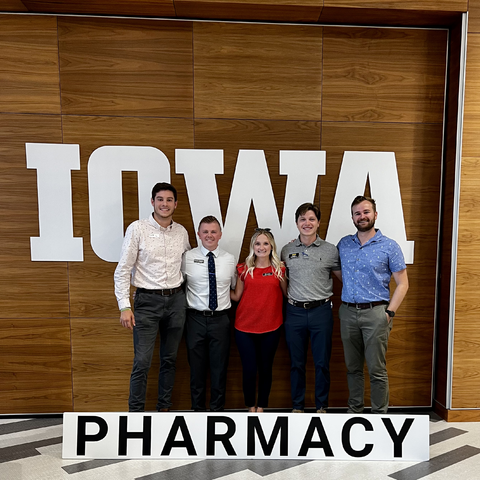 While I wouldn't have traded my time in Indianapolis for the world, I am happy to be back in Iowa City for my off-block during Cycle 4 and closer to my friends. During our final year of pharmacy school, we are required to complete eight five-week rotations along with one five-week off-block. This allows students to do whatever they please during this time, and many use it to recharge, recover their bank accounts, travel, or prepare for upcoming interviews and applications. I will be working as a pharmacy intern at Hy-Vee Pharmacy during my time off helping coordinate an elective pharmacy course entitled "Leadership and Political Advocacy" and preparing for ASHP's Midyear Residency Showcase in December.
As fun and beneficial rotations have been for me so far, it does honestly get quite expensive. Paying for rent plus additional housing, groceries, travel expenses, and other bills can add up pretty quickly when working 40 hours a week without receiving a paycheck. That's why I'm grateful to be able to work (and receive a paycheck) during my time off. I'm also excited to give back to a class I took during my second year of pharmacy school that has meant so much to my career aspirations and goals. The ability for students to learn from and meet so many incredible pharmacy leaders is always deeply appreciated. I also will be spending my additional free time researching potential post-graduate opportunities such as residencies and fellowships, gathering materials for my applications to these programs, and mentally (and physically) preparing for Midyear in Las Vegas. This will be the first time that this event has returned to an in-person format since I was in my first year of pharmacy school due to the COVID-19 pandemic. Typically, only final-year students attend this event, and with very few people to lean on for guidance on navigating this event, it could very quickly become overwhelming for many students if they are not adequately prepared. I will be relying on my professional network to help me prepare for the event, with the hopes that I can serve as a resource for future pharmacy students.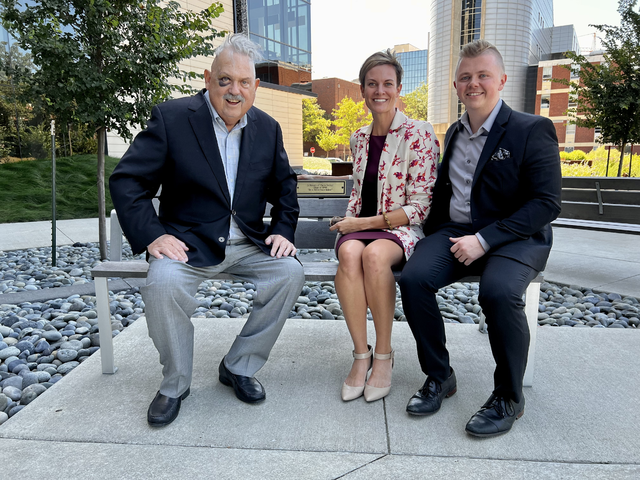 With my remaining free time prior to beginning my 15-hour trek to the east coast in late September, I will be spending as much time as possible with my friends that are in the area, staying active and participating in the annual #StepCycleSwing competition, and attending IPA's Annual Meeting with many of my classmates and friends. This will also be the first time I will have the opportunity to participate in this meeting as an in-person attendee. I look forward to experiencing all that it offers while reconnecting and meeting some incredible pharmacy professionals in our state of Iowa.
My final year of pharmacy school has provided me with many opportunities and challenges. I had previously thought that these would be limited to the time spent during my clinical experiences. However, it has since become clear to me that life has a funny way of challenging us in ways you can never expect, and it's up to you to determine how you will respond to them.
Combining the lessons learned and challenges thrown my way both professionally and personally throughout the beginning of my final year of pharmacy school, including handling free time and staying connected, I can confidently say that this has been the most impactful few months of my life. With that in mind, I can't wait to see what the rest of my Journey Through Rotations offers.
{{cta('1999f129-41c8-4ca7-84ce-12ef94bb5846′,'justifycenter')}}