The CDC defines a Community Health Worker (CHW) as a frontline public health worker who is a trusted member of their community and/or has a thorough understanding of the community being served. Who would be better to fill this role than Pharmacy Technicians!
The average person visits their pharmacy 35 times a year and almost 90% of Americans are within 2 miles of a pharmacy. Training Pharmacy Technicians as Community Health Workers accelerates patient care and allows them to bridge community members to local resources.
In partnership with the Missouri Board of Pharmacy and L&S Pharmacy, CEimpact is offering a 16-week certification course. Students who complete this course will learn to effectively communicate with patients, identify and connect with local community resources, provide patient education, document patient encounters, and oversee referral processes, including follow-up and monitoring. As part of the course, students will complete 60 hours of service/experiential learning related to their studies. Successful completion of this course will result in a certificate recognized by the Missouri Department of Health and Senior Services (DHSS).
Interested in becoming a Pharmacy-Based CHW? Join one of our next cohorts starting on August 16 and October 18. Learn more here.
We are sharing stories highlighting Pharmacy Technicians serving their local community members in their CHW role and what this does for communities and patient outcomes at L&S Pharmacy in Charleston, MO.
Meet Bonnie Scheffer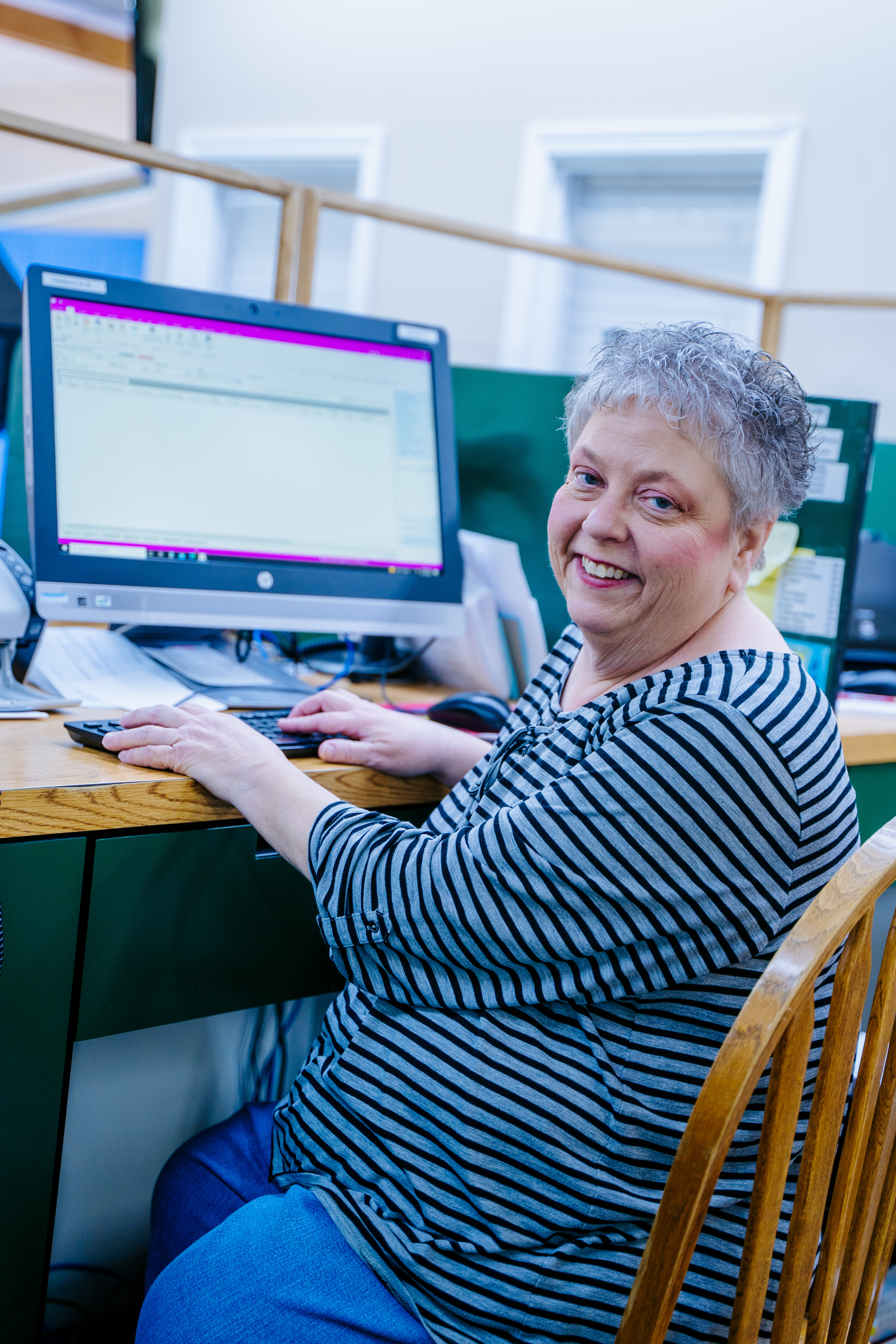 When you walk into the pharmacy, you will be greeted by the bubbly Bonnie Scheffer. A 35-year veteran of L&S Pharmacy, she has been a CHW for 2 years.
"My job is to talk to customers. Today, I had a gentleman in here who has been worried about his wife. I knew his wife had been in the hospital with COVID-19 and had moved her to a rehabilitation facility. She is doing poor, and having trouble with her heart and lungs. Doctors have been unable to see her at this facility, and her heart is filling up with fluid. Her cardiologist is hours away. I was able to identify a local heart doctor for the patient and worked with him on getting her an appointment."
When asked, what role did you play in tackling COVID-19?
"We had curbside service throughout COVID and remained open and available to patients who needed help. If they had COVID, we would take it to the front door but made sure someone picked up the prescription. We asked everyone about getting vaccinated and provided education. When calling patients, many of them asked, "Are you going to get vaccinated?" and I would always tell them that we plan on getting it when it was available. I told several people who had symptoms of COVID to get tested, some people needed a little push of encouragement. What was so bad, is many people are still having complications. I have had patients who have passed away due to COVID, and as a CHW I have tried to love on them and embrace their grief with them."
Meet Michell Pattengill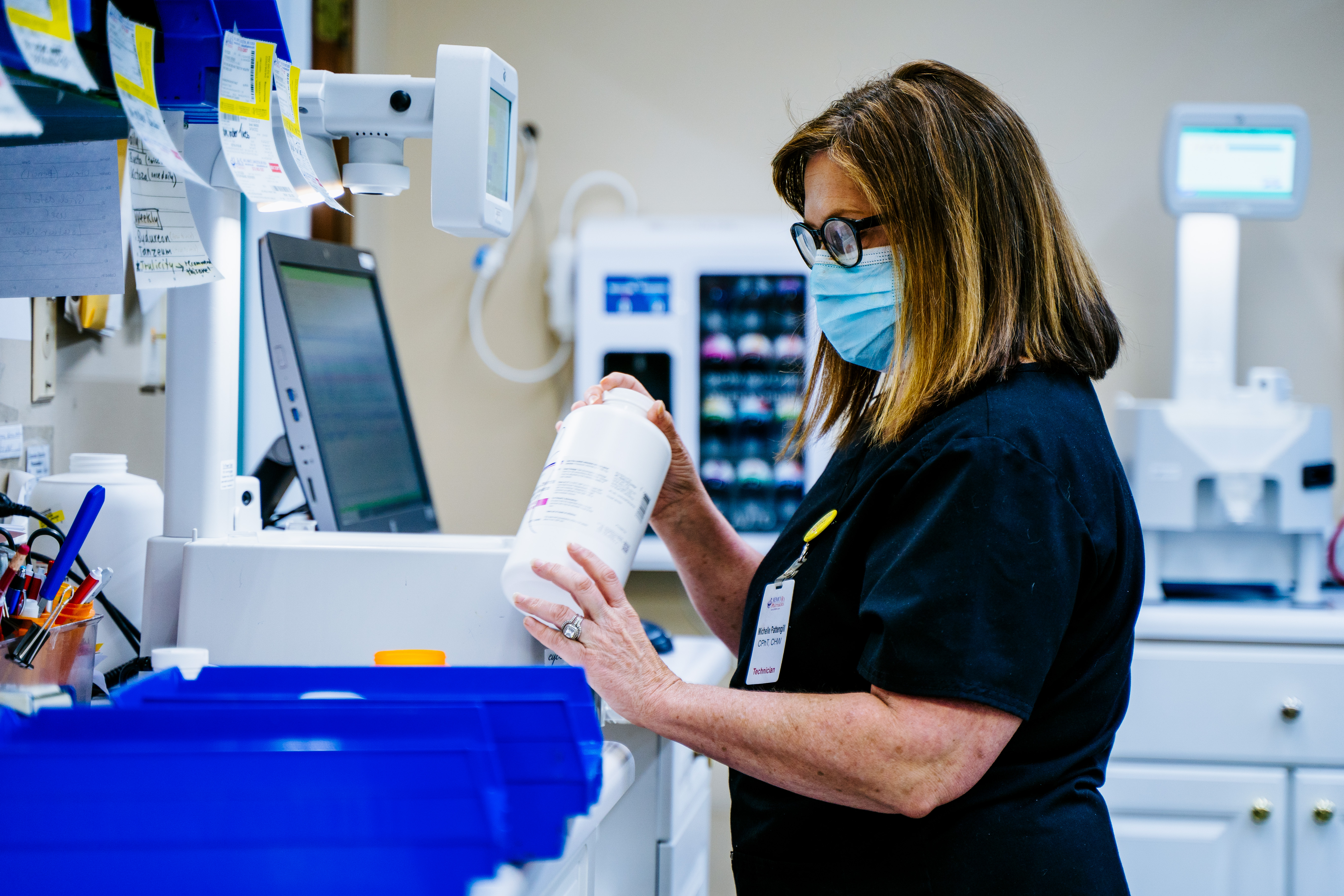 Michelle Pattengill is a true CHW pioneer. She is one of the first credentialed CHWs at L&S Pharmacy. Michelle has worked at L&S for 15 years, and her care goes way beyond dispensing.
"A new patient to the area had come in and was temporarily uninsured. The patient was on blood pressure medications and medications for an overactive bladder. Locally, he saw a urologist but hadn't established care with a primary care provider. I recommended a local provider, identified cost savings on medications and closed his gap in care. I was thankful we had referred him because soon after he ended up having a blood clot. He was able to be seen quickly and have his urgent need addressed due to establishing care."
What would you say to people on the fence about getting trained as a CHW?
"I feel like what we have done for years now has a title. Receiving the training helped me identify that patients need more than coupon cards and medication savings. I was able to help people in ways that I would have been unable to otherwise and now know about the resources. As a CHW, I am able to speak on the patient's behalf and ensure they get the care they need. I was aware of these needs but the CHW training helped me identify solutions to improve patient care. I wouldn't have known the possibilities of helping patients had I not gone through the CHW course."
What do you think pharmacists need to know about Pharmacy Technician-CHWs (PCHWs)?
"We wear both hats, the roles of CHWs and technicians go hand in hand when reviewing medications. Being a CHW, I have learned more about disparities. As a technician, we can see medication savings for them but we may be unable to take the extra step to identify alternative cost savings and resolve gaps in care (by referring for classes such as blood pressure or diabetes). As a technician/CHW, I can fill medications and also help impact patients' health long term. I am not a CHW 1 day and a technician the next day, I am always a CHW/Tech. When I call a doctor's office, saying "I am a CHW for this patient" they are able to understand and address the given need that may not directly involve medications.
Meet Sandra Clark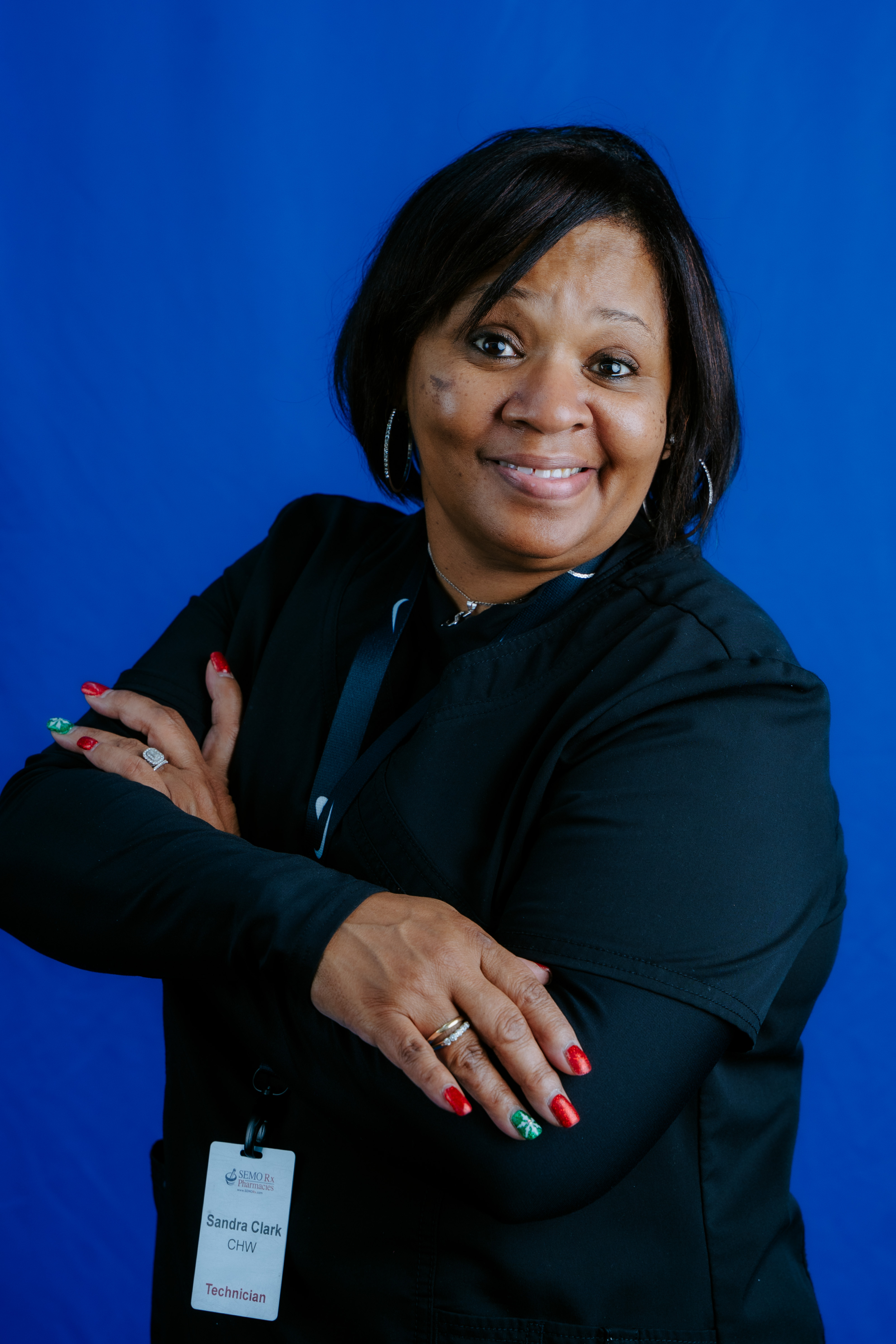 Sandra Clark has been a leader in assisting with the COVID-19 vaccine and outreach efforts. She has been with L&S for 8 years and has been a Pharmacy Technician/CHW for 2 years
How do you like being a CHW?
"I like being a CHW, it's interesting. I like to help people and lead them to the right sources."
What were your thoughts on assisting with COVID clinics?
"Our COVID clinics occurred at local parks, backpack giveaways, church events, home visits, and churches. My role was to help assist the pharmacist providing vaccines and encourage the patient that they were doing the right thing and remain calm. Most of all, being around the people, and help encourage them to get the shot. Some people were afraid of needles, and I wanted them to focus on something else so they wouldn't be afraid. I also would hold their hand, for spiritual support. I know a lot of people! I had fellowship with many of the attendees. Even some relatives and friends attended the events."
How has COVID impacted you as a CHW?
"I have gotten a chance to encourage my family to get their shots. I lost 3 family members to COVID. I stressed the importance of vaccinations because I have family members who have chronic diseases. It is important not to be afraid to get the shot because we take medications and we don't know for sure what is in the medication that is prescribed to us. We can't say the vaccines can do this or that."
How have you worked with the local health dept?
"I attend the Chronic disease class provided by the health department for my own professional development. I didn't realize how important it is to take your medications. I have Type II Diabetes and it enlightened me that eating right, portions, exercising, and taking your medications is helpful for people with hypertension. I have learned how to personally cut back on foods, get my rest, and add a little daily exercise."
What would you tell someone who is on the fence?
"Being a CHW will help you get familiar with your community, and the learning is interesting!"
Meet Robin Slaten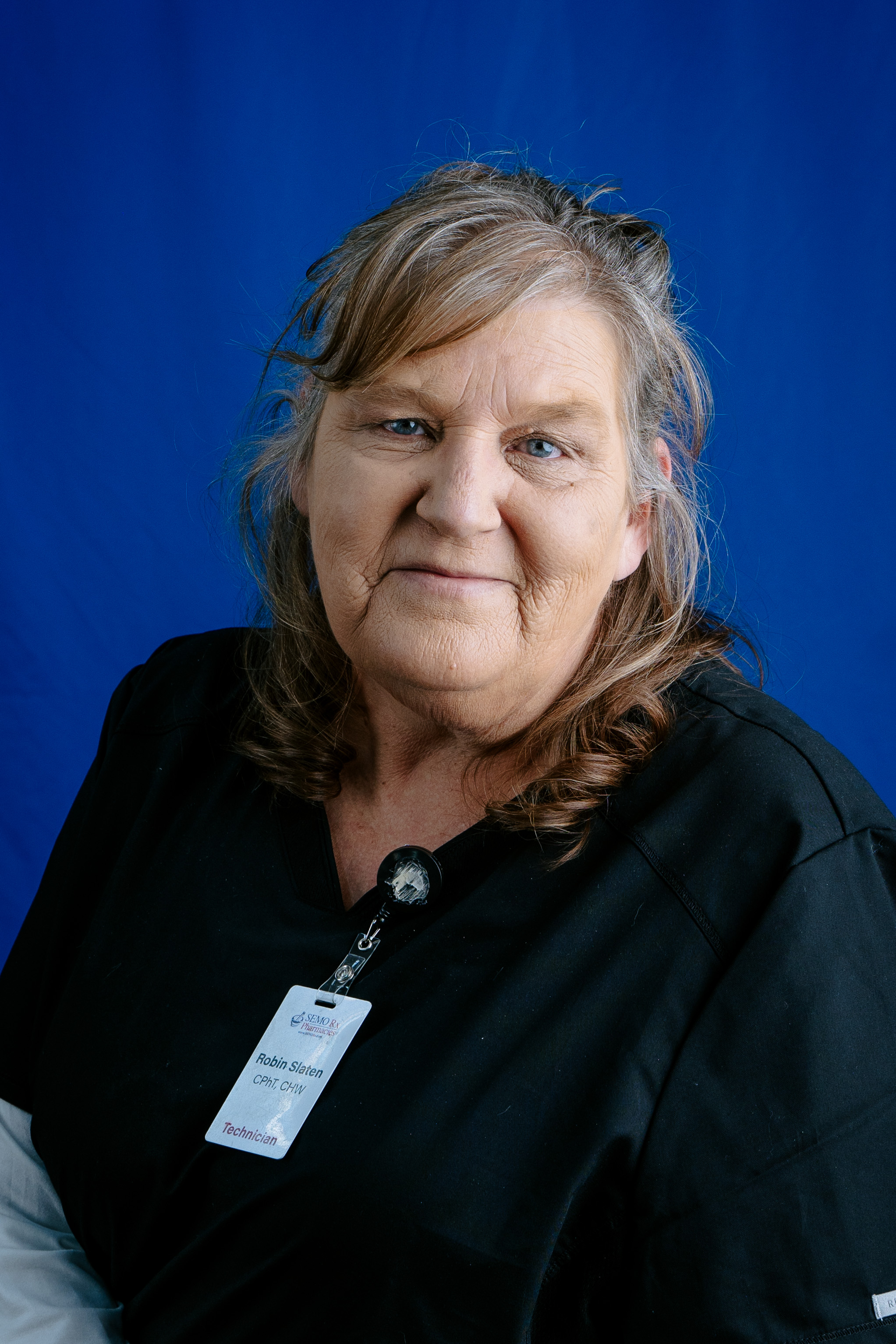 Robin Slaten is best described as a jack of all trades. A valuable asset to L&S Pharmacy, she has "too many" years of service or 27. She has led the way in reimbursement opportunities for CHWs at the pharmacy.
What made you want to become a CHW?
"I was told I would make a good CHW, and I decided to take the training."
What are some unique experiences you have done as a CHW?
"We are part of a grant that reimburses for self-measured blood pressure. As a CHW, I have learned to teach patients about high blood pressure. I learned how to take blood pressure and what the numbers mean. I have shown patients how to take their blood pressure, record it, and educate patients on the importance of taking their medications.""Additionally, I have received training to teach a class, "Walk with Ease". This class is designed for patients with pain or arthritis to help cope with their pain by walking. It provides you with goals to aim for and teaches you how to exercise and stretch properly, along with the dos and don'ts of exercising. I am preparing for my first class. I am excited and ready to get started!"
Tell us about your experience with COVID-19 vaccination efforts.
"I had a patient who didn't want to take the shot, she was scared. I told her I would hold her hand. She ended up getting vaccinated without her hand held."
How could a CHW in your life helped you?
"Having a CHW would have provided extra hands and support while caring for my ill family members. My Mom, Dad, and husband were all sick at the same time. A CHW could have helped me see what I had missed. Looking back, if I had others checking in and calling on them, they may have had better health outcomes. Sometimes all anyone needs is someone to talk to. I use these life experiences to help my patients as a CHW"
Meet Laura Decota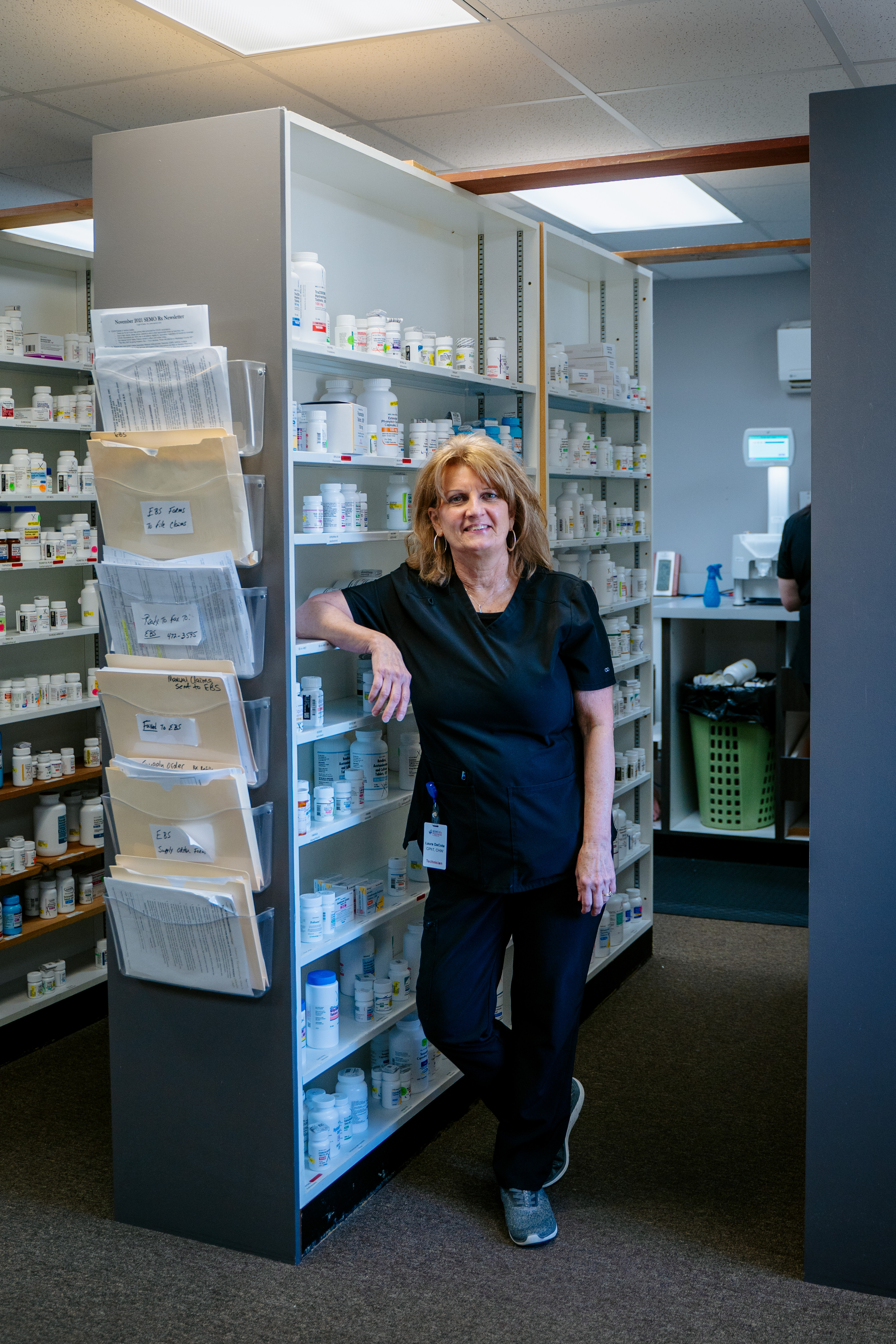 Laura has worked at Medical Arts Pharmacy since 2006 and has been a CHW for 3 years. Laura was one of the first technicians at Medical Arts to go through CHW training.
What role do you have at the pharmacy?
"I was just talking to a patient today who had been released from the nursing home. I went over the list of the medications he was on, discontinued meds, active meds, and prescriptions needed. I helped him navigate the health system. His wife has a lot going on and is trying to keep his care at home. Our role is to be a navigator and the "go-between" of the doctor and patient. We also needed prior authorization for one of the medications, and I needed to make a follow-up call to the doctor. Patients often don't know what this is, and we try to take care of this for the customer."
What would you say to someone on the fence?
"I would say it is worth it. I have been a technician since I was 18 years old. The class made me more aware of things. It's a good program, and it helps you become more aware of the situation and things that are going on with the customer besides their medications."
How has your role changed since being a CHW/Tech?
"I am not sure. I don't know that it has changed in regards to what I do, but more so how I do my job. It makes me more aware of situations that I wasn't before. I feel like the roles of a technician and CHW go hand in hand. In the class, I learned that a CHW does this and that, and I thought to myself, 'Well I already do that!'."
Meet Erika Johnson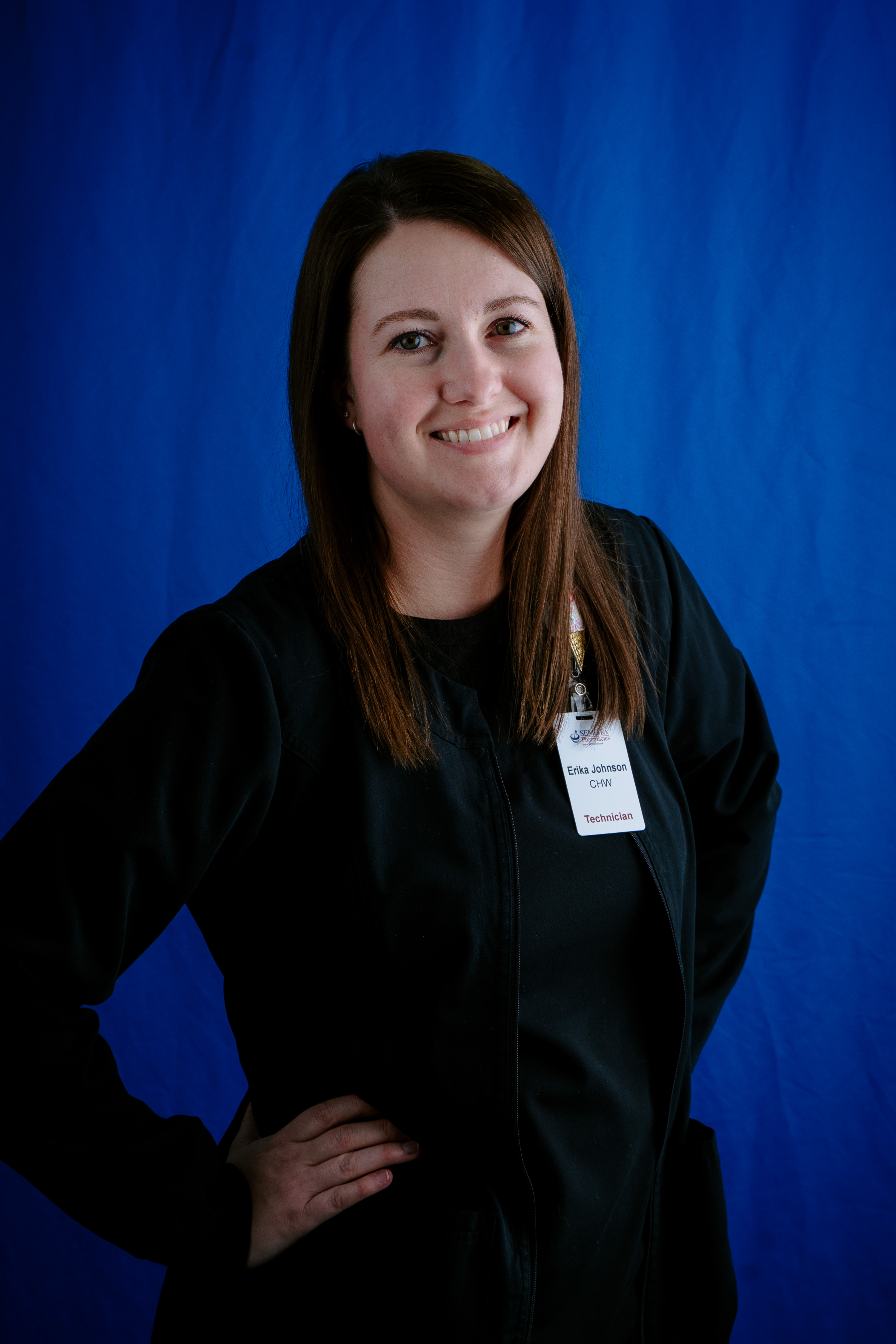 Erika is a CHW/Tech at Medical Arts Pharmacy where she goes above and beyond to help patients. She has been in her role for 9 years and has been a CHW for 2 years.
How has your role changed since receiving CHW training?
It has given me more to think about instead of just thinking about filling. For example, a patient with an expensive copay may be on a strict budget, and as a CHW, I have a mindset of going above and beyond. I really try to do more to see how else we can help them besides filling prescriptions.
What would you say to someone on the fence about completing the CHW course?
"I would recommend it because there is a lot of material that is covered as far as recognizing what your scope is. There is a lot of helpful information with subjects that may come up that are touchy, that as a technician you may not hear about much or know how to address."
How do you like being a CHW?
"I do like it. I enjoy knowing that customers are aware that you try to do everything you can instead of just doing what is required and sending them on their way. I appreciate the many "thank yous" we get from our customers."{{cta('37e41dc9-a454-405d-bf94-8c0a66fe2f52′,'justifycenter')}}